Jul 14 2015
AdVenture Capitalist is one of my favorite idle games.  It is addicting, and you are able to play it at small bursts of time, and it keeps going in the background.  There are a fair amount of features to this game, and you can play it anywhere, from your web browser, to your Apple or Android device, or through Steam.
AdVenture Capitalist is an idle game.  An idle game is, as TVTropes puts it:
a genre of game defined by the primary feature of its strategy: leaving the game running by itself for long periods of time
This is a very addicting game type, as you just have to check back every few minutes, or hours, or days, to upgrade some of your items, or buy some items, and then let it sit in the background while it does work for you, and you can come back to profits.
The description for AdVenture Capitalist, for their Kongregate page is:
Welcome, eager young investor, to AdVenture Capitalist! Arguably the world's greatest Capitalism simulator!

Have you always dreamed of owning your own business? Being the master of your own destiny?  Forming your own multi-national conglomerate to create a world-wide, monopolistic economy? Then AdVenture Capitalist is the game for YOU!

Begin your quest for world domination by clicking on the Lemonade Stand progress bar. Keep clicking until you can afford to pay for more squeezers! Now you've got the hang of it.

Hire employees, purchase cutting edge upgrades, dominate the market, and attract eager Angel Investors to boost your profits! The only way to go is UP UP UP!

AdVenture Capitalist – a strangely addicting Idle game.
AdVenture Capitalist Earth
The Earth was the first part of AdVenture Capitalist.  Below in screenshot, you can see the dashboard of the Earth.  There are 10 different categories of things you can buy, in increments of 1, 10, 100, or the max you can buy with the money you have.  There are also upgrades, which add multipliers to each business type, and managers, which run the business for you, so you do not have to click every time, and are able to gain money while you are away from the app.  There are also angel investors, which you can reset your game, clearing all your buildings and money, so gain a multiplier, which allows you to progress faster in future games.
To see a more detailed strategy of AdVenture Capitalist Earth, check out this guide on Kongregate.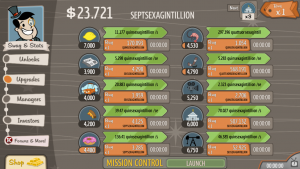 AdVenture Capitalist Moon
The moon is very similar to Earth, except there are different buildings, and it is much slower to progress on the moon compared to the earth.
To see a more detailed strategy of AdVenture Capitalist Earth, check out this guide on Steam.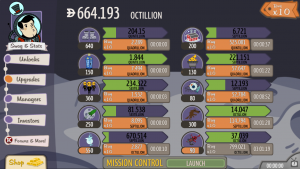 Computer: Kongregate (free) – Steam (free)
Mobile App: iTunes (free) – Play Store (free)
If you enjoy this game, and want to read more, and talk to other people who also play this game across all the platforms, check out its reddit subreddit.