Aug 22 2015
Have you ever wanted to find apps, that are not already super popular, or that are new?  There are many apps on the Google Play Store that are released each day, many of them great, that will never become popular.  You are missing out on fun games and apps that will make your life easier because you never knew they existed!  Don't worry though, RunThrough has you covered!  We have created a list of the best resources to find new apps, through other apps on the Play Store, or through websites on your browser!  Have fun finding these new apps you would have never found before.
This list will be updated constantly, editing current entries, and adding new ones as they are discovered.
Android Apps
Not only does Tingz.me have a blog where they share their top apps in many different categories, they have a predictive Android app.  This app gives you recommendations for new apps based on apps you already have, and how you use your phone.
Swably is like a social network for apps.  You can share, upload, download, and review apps and games.  Find new apps here, as anyone can share an app, so new developers have a good platform to share their apps, and you have a good platform to find these apps.
A very popular app, with over 10 Million download on the Play Store, AppGratis shows you a paid app that is free for one day only.  This is a great way to get new apps on your phone without breaking the bank.  This app is for IOS apps as well, so if you have either an Android or IOS device, this app is for you.
Just Like AppGratis, App of the Day gives you a paid Android app that is free for one day.  This app boosts that it saves you over $500 worth of Android apps a year, so this one is worth checking out and downloading to see for yourself.  The free apps range from classic arcade games to productivity apps, so there is something for everyone.
Daily Free App @ Amazon
More free apps!  Instead of free Android apps on the Play Store, this apps shows you the free apps on Amazon.  This app works in multiple countries, and can send you a notification when an app becomes free on Amazon.
Appreciate is your Personal App Market for Android.

Appreciate shows you great apps just for you, based on the apps you actually like and use, and what your Facebook friends, and mega-users of apps you're interested in, like and recommend for you.
This app gives you personalized app suggestions.  It uses data from apps you already use, apps your friends and similar people use, and apps that are similar to ones you currently use.  This is a great app for finding new great Android app you never knew existed.
Websites
Claiming to be the most advanced semantic-based search engine for discovering apps, which makes it great for this list.  It has thousands of categories that is uses to classify apps, and uses user reviews so users can find the perfect apps that exactly describe who they are, what they need to achieve, or the app features they want. This is completely on your web browser, and has games and apps for Android, IOS, and Windows phones.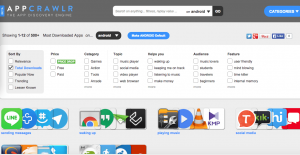 AndroidApps, a spinoff of Appolicious for IOS (made by the same people), gives you a new way to discover your new favorite Android app.  You can filter apps out by a variety of filters, and if you are looking for anything, their are daily staff picks, and new apps to choose from everyday!  Have this place in the back of your mind when trying to find new apps for your phone.
Reddit is an online forum that people can post links and make comments.  This is a great place to find new apps, as you can either ask for a certain app to do a task and other people will give you suggestions.  You can also find and learn about new random apps that people will post about, and you can go and download them.  This is a great place to find apps that you know are good, based on what people are saying about them!

A massive database of android apps and games, AndroLib is comparable to the Play Store, but it is a different way to browse.  You can see top apps of the day, and apps that other people are currently downloading and looking at.  This is not going to suggest apps based on what you like, or give you an app a day, but you can check out many apps at once, with reviews, and find apps you would have never found in the Google Play Store.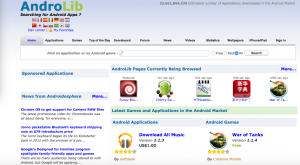 AppsZoom is a well designed website bringing you the latest and greatest apps for your Android device.  You can find apps through categories, or you can check out top picks everyday.  You can also find lists of top apps, as well as features reviews and latest downloads.  This website is very easy to navigate, and it looks great, making finding a new Android app productive and fun!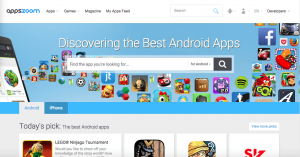 This is a website that allows developers to advertise their app.  They showcase many cool new apps and games, and many of them are from indie developers, so you know you are getting something new.  They have featured apps and top apps, so you can discover apps that way, or you can search through their database to find that one Android app you could not find before!