Mar 16 2016
Chess Light is a puzzle game by Pyrosphere. It is a game
inspired by chess for everyone: from Beginner to Grandmaster.

180 puzzles
6 difficulty levels

Place the pieces on the board and light up all the squares!
If you know chess, this game will come naturally, though the puzzles do get very difficult.  If you don't know chess, you will figure out what all the pieces do very quickly, and the game becomes very fun.  I would recommend this game to anyone with a smartphone, as it is available on the Play Store, Amazon, iTunes, and the Windows Phone Store, and you can find links to all of these below!
This is a walkthrough of the first 20 levels (1-20) from Master, the levels from all Beginner, Class A, Class B, Class A, Master, and Grandmaster are all linked below!
Level 1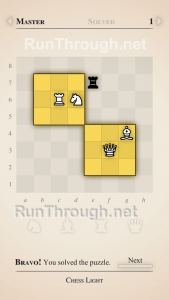 Level 2

Level 3

Level 4

Level 5

Level 6

Level 7

Level 8

Level 9

Level 10

Level 11

Level 12

Level 13

Level 14

Level 15

Level 16

Level 17

Level 18

Level 19

Level 20
All Levels: Beginner | Class C | Class B (1-20) (20-41) | Class A (1-20) (21-40) (41-50) | Master (1-20) (21-40) | Grandmaster
Download: Play Store (free) | Amazon (free) | iTunes (free) | Windows Phone (free)